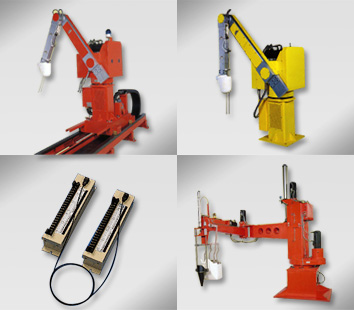 【 feature of robot for casting of plus 】
・Capable of controlling of the pouring volume of the molten easily.
・Very simple operation and excellent function, by which obtainable high work efficiency.
・By exclusive design for the aluminum casting robot, there is no useless function for the purpose and even beginner can operate it without worrying.
・By changing of teaching, robot action also can be changed simply, and can correspond to the wide ranged changes.
・Superior for heat resistance and strong built.
・Capable of communication between the robot and the host computer. (Option) .



October 25, 2007
Each customer

【The request of pouring robot control unit model change for casting】

I have particular favor and am always very grateful.
Is the request of pouring robot control unit model change for casting,; but of the LSI which particularly did changing the model of the control unit with stopping producing it of the computer-affiliated LSI started type development newly at the same time there was notification about stopping producing it before 3, and to stock a share for several years, and decided passed, and to change the model of a test try for one year from July, 2007. In what become transaction speed and a function of the computer part, the performance up, but is convinced of when have use it more than the handling and the specifications conventional type that are the state conventionally entirely in peace as for the thing of understanding thanking you in advance.
I want to have kindness of the redoubling sequentially and will ask eagerly in future.